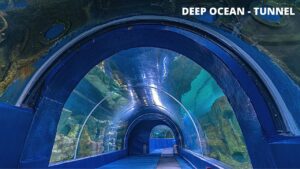 VGP Group established the first of its kind walkthrough tunnel aquarium in India during 2019. The aquarium has a built-up area of 70,000 sq mtrs. It has 35 exhibits including the massive tank which houses the 70 mtr tunnel.
The Aquarium has been created on par with aquariums of international standards like the Sentosa in Singapore , Aqauria in Malaysia and the like.
It has been drawing a good number of visitors since its opening last year. Children, especially school going students have been able to learn more about marine species through our Aquarium.
Under the lockdown situation where the facility could not be experienced by the visitors, the management of VGP has introduced "THROUGH THE MARINE KINGDOM" – the WORLD FIRST VIRTUAL EDUTAINMENT AQUARIUM TOUR. This is a novel concept and the first of its kind in the world, with its virtual edutainment of the aquarium tour providing an in-depth experience of our aquarium to its fish lovers and its patrons.
After doing their in-depth research of other virtual tours done about aquariums, the tour promises to be unlike any other virtual tours; that is either,
a) static image panorama tours, allowing you to click and move to the next "hotspot" or b) a first person view (FPV) video walking around the premises without any education elements.
Sitting at home one can experience the five aquatic zones as well as the 70 mtr under water tunnel. They will be able to have an upclose view of all the fishes exhibited in each tank. The virtual tour also provides details pertaining to the habitats of fishes, and their other behaviors like food intake. The duration of the virtual tour is about 45 minutes and is moderately priced for the whole family to experience.
" This virtual tour will not only kill the boredom during this lock down period but will also provide edutainment for the children "says Mr. VGP Ravidas, Managing Director of VGP Marine Kingdom.
Institutions and Corporates have shown interest in booking bulk tickets to provide virtual outing for their employees and also consider it as a CSR activity to support the upkeep of our marine friends by purchasing the tickets and adopting as well.
This was briefed by the top management under the presence of their Chairman, Dr. VG Santhosam, Mr. VGP Ravidas, Managing Director, VGP Rajadas , Senior Director,and Mr. VGP Babudas, Senior Director. Also present was the CEO of VGP Marine Kingdom, Mr. VGPR Premdas.
The teaser of the virtual tour can be seen by clicking here
Watch Teaser
Please contact us at https://vgpmarinekingdom.in/locate-us/ to get complimentary access to the full virtual tour.