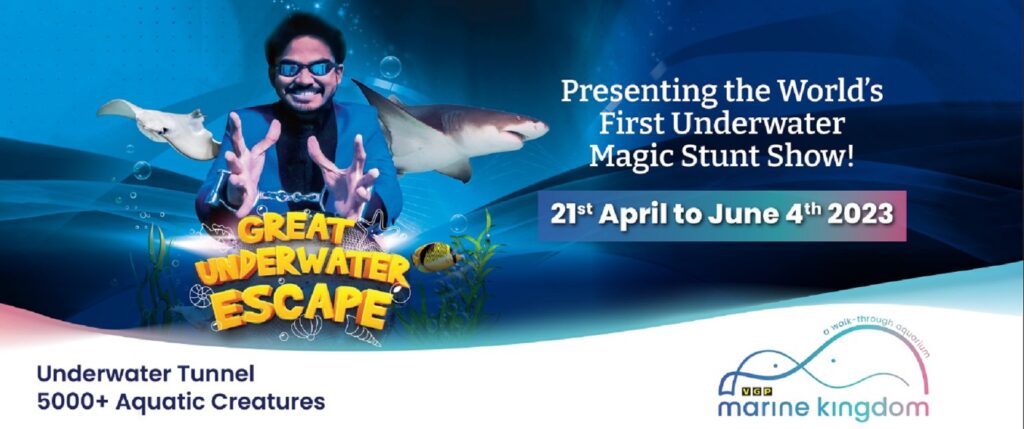 World's First Underwater Magic Show
Magic shows are always fascinating and entertaining to people of all ages. Many of us have enjoyed several such shows in theatres and auditoriums, but for the first time in the world we now have a chance to witness an extremely engaging magic show underwater. VGP Marine Kingdom in Chennai is hosting a unique magic show by renowned magician Vignesh Prabhu, known as the Flying Man of India, with over a decade of experience and a gamut of mind-blowing illusions.
The show
The magic show is on for 45 days, and will be a spectacular treat for children and adults alike, with Vignesh performing his signature tricks. The highlight of the show is the underwater escape act inside a 3 million litres marine tank, home to blacktip reef sharks, lemon sharks, bow-mouth sharks, sting rays, giant trevally, and many other creatures. The performance will be a perfect blend of drama, thrill, and entertainment. This act will be a show-stopper, with Vignesh performing truly amazing feats after being trained for three months with professional divers.
The venue
The magic show is being hosted at the 180 degrees underwater viewing room for performances housed in VGP Marine Kingdom, the world's first walkthrough tunnel aquarium. The aquarium has hundreds of exotic marine species on display. The show is especially planned as a treat for children during their summer vacation and brings both educational and entertainment value to the table.
VGP Marine Kingdom is sprawled over a 70,000 square feet area, housing over 250 species of marine creatures in five different native habitats – Rainforest, Gorge, Mangrove, Coastal and Deep Ocean.
VGP Marine Kingdom has always been a frontrunner in entertaining visitors, organizing various spectacular events throughout the year. Annual summer shows featuring mermaids from across the world have been organized in the past.
Dates and tickets
This underwater magic show is being held from 21 April 2023 to 4 June 2023 at VGP Marine Kingdom. Tickets for the show can be purchased either online or at the venue. Four shows are being performed every day, with a limited number of seats.
Show up early to be assured of a seat and get to enjoy a breath-taking and mesmerizing show!